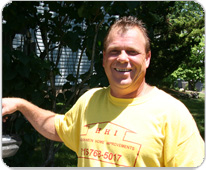 Eric Hodgkinson, owner of Hodgkinson Home Improvements is a life long resident of Warminster, PA in beautiful Bucks County. Directly out of high school, Eric started working for various contractors learning the home improvement trade.
His years of "hands on" experience prepared him to branch out on his own and in 1986 he founded Hodgkinson Home Improvements. His interest was to serve and beautify the community that he so proudly grew up in.
Nearly two and a half decades later, Eric has become a staple in the community with a reputation for quality and reliability when it comes to home remodeling and repair.
Eric's mother, Kathleen Hodgkinson, served as Warminster's tax collector for 22 years and was dedicated to helping senior citizens and the community. Following in his mother's footsteps, Eric is in his second term as auditor for Warminster Township and works the polls at every election.
He is involved with community work at Warminster Park where he volunteers his time and energy to build a "Safety Town" for the children of the neighborhood. He believes in giving back with a motto of service to the township.
As an entrepreneur, his community involvement includes membership in the Bucks County Chamber of Commerce since 1996.  He is also a Better Business Bureau accredited business meeting BBB accreditation standards and currently maintains an A+ rating.
As one of the areas top Warminster contractors, Eric offers a wide variety of home improvements such as Warminster roofing , windows, doors, painting, flooring, paving, seal coating and virtually all other home improvement services.
He believes in serving the needs of every homeowner and can help you with the smallest home repair to larger jobs such as building additions, decks or siding an entire home.

Hodgkinson Home Improvements is the only Warminster Roofing and Siding Company you will ever need for all of your home improvement needs. If you're actively seeking a reliable Warminster contractor who takes pride in the work they perform and sincerely care about the customers they serve, call Hodgkinson Home Improvements at 215-768-5017 today for a free estimate!